As someone rightly said "Help those less fortunate than you, for it is real human existence."
India with 22% of its population living below the poverty line, we couldn't find a more suitable motto to look up to. We all are aware that a large chunk of people in our country belong to the low-income groups who unfortunately are not capable enough to afford basic medical facilities. These people live in conditions of poor hygiene which further results in threat of various diseases. However the Indian government has been striving hard to eliminate these hurdles by schemes such as Ayushman Bharat Yojana Scheme also known as Pradhan Mantri Jan Arogya Yojana (AB-PMJAY) to provide quality health care services for those less privileged. The Ayushman Bharat Yojana is a flagship scheme by the Government of India. The scheme is basically a health insurance plan for the poor, lower section of society and the vulnerable population. This scheme provides monetary protection to the people for hospitalization in case of medical emergencies. Let us look into this scheme in detail and its features, benefits and eligibility.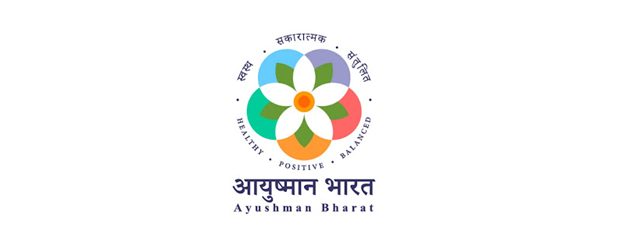 Ayushman Bharat Yojana, recognized to be one of the biggest healthcare schemes in the world, intends to target more than 50 crore of the Indians, especially the economically weaker strata of the country. Launched in September 2018 the scheme provides a maximum of Rs.5 lakh per family per year health insurance coverage for secondary and tertiary hospitalization care. The scheme covers the pre-hospitalization expenses, diagnostics, treatment costs and medicines. 
Further the scheme also provides Ayushman Bharat Yojana e-card through which cashless hospitalization services may be availed at any of the designated hospitals in the country. The AB-PMJAY covers several aspects stated as below:
       

Diagnosis and laboratory services.

       

Pre (up to 3 days) and post (up to 15 days) hospitalization expenses.

       

Medicines and food services.

       

Medical examination, consultation and treatment.

       

Non-intensive and intensive care services.

       

Accommodation.

       

COVID-19 (Coronavirus) treatment.
Ayushman Bharat Yojana Scheme like every other insurance policy has some exceptions to it which the scheme does not cover such as cosmetic surgeries, organ transplant, fertility treatments, drug rehabilitation, individual diagnostics, etc.
Some of the significant features of Ayushman Bharat Yojana Scheme are that it has no constraint on the family size, gender or age. However as the scheme was launched for the bottom 40% section, it is based on deprivation criteria of Socio-Economic Caste Census 2011, so that only the underprivileged benefit from this initiative. One can avail services including costs for diagnostic facility, drugs, room charges, physician and surgeon charges, supplies, ICU and OT charges. The scheme also covers all pre-existing conditions along with 1393 medical procedures. Further public hospitals are also reimbursed at par with private hospitals. There are some critical diseases covered under this scheme like prostate cancer, double valve replacement, coronary artery bypass, skull base surgery, anterior spine fixation, carotid angioplasty with stent and the latest addition COVID-19.
The AB-PMJAY marks criteria for the beneficiaries of the scheme based on socio-economic status. In Rural areas the scheme covers those falling in any one of the categories such as households with only one room with kucha walls and roof, with no adult in age group 16-59yrs, no adult male in age group 16-59, disabled member in household, landless households, SC and ST. The scheme by default covers the manual scavenger families, primitive tribal groups, bonded laborers, etc. In Urban areas the scheme covers the beggars, domestic workers, rag picker, street vendor/hawker, construction workers/mason/labor, sweeper/sanitation workers, artisans/handicrafts worker/tailor, transport workers, peon in small establishments, mechanics, chowkidars etc. The scheme also mentions categories of people it does not cover, which are as follows: 
       

Owners of 2, 3 or 4 wheelers, mechanized farming equipment, motorized fishing boats.

       

Government employees and ones holding kisan cards.

       

Individual with earnings of Rs.10, 000 per month.

       

Owners of decently built houses, owning landline phones or refrigerators.

       

Working in government-run non-agricultural enterprises.

       

Owners of more than 5 acres of agricultural land.
Since the scheme focuses on the underprivileged, there is no enrolment process as such. The government selects the beneficiaries on basis of the SECC 2011. Those following under this scheme need certain documents to apply such as identity and age proof (Aadhaar Card/PAN Card), mobile and residential address, caste certificate, income certificate and documents stating your current family status. In case one wants to know their eligibility for the scheme they can check it on their website (https://pmjay.gov.in/) and click on the "Am I Eligible" icon.
COVID-19 Coverage:
The Insurance Regulatory and Development Authority (IRDAI) had issued an advisory in March, 2020 with certain guidelines for the health and general insurance companies to facilitate recipients to avail the COVID-19 coverage (hospitalization and treatment costs) which the PMJAY shall cover. The eligible patients would now be able to get free treatment at the designated hospitals via this scheme across the country avoiding any kind of hardships.
Being a health-tech firm is spiritually rewarding, team Digiqure knows it well that there is something inherently noble about helping people when they need help the most. So, we are working day-in and out to keep the masses aware of all the plans and schemes provided by various bodies for their benefits. Do check-out all our social media portals to stay updated of such schemes and other healthcare related facts.