Hair loss is a common problem among women and men. This article shares some of the most popular Ayurvedic remedies for hair fall have been used for thousands of years. Take a look at some of these remedies before to prevent hair fall and regrowth of hairs.
What is Ayurveda?
Ayurveda is a traditional method of healing that comes from India. The origin of Ayurveda is attributed to Atharva Veda. It focuses on natural ways to keep people healthy and also mentions natural ways to treat ailments.
Ayurveda is a type of medical system that uses herbs and other natural things to keep you healthy. While its roots are from ancient India, It has become popular in many different countries like the United States,South Asian countries like Brunei, Burma (Myanmar), Cambodia, Timor-Leste, Indonesia, Laos, Malaysia, the Philippines, Singapore, Thailand and Vietnam .
Why one should consider Ayurvedic Remedies for Hair Fall
Ayurveda can help in dealing with hair fall problems. Scientists have been a lot more interested in Ayurveda in the last few decades, and they've found that it can help you to treat hair fall problems and promotes hair growth.
A lot of other treatments use harsh chemicals or have harsh side effects. Ayurvedic remedies don't have any such vital side effects. Massaging the scalp with Marma points on the head, Amla, Reetha, Shikakai, Shirolepa, Nasya along with practicing regular yoga poses and pranayamas can help to slow down hair fall as well as help in hair regrowth.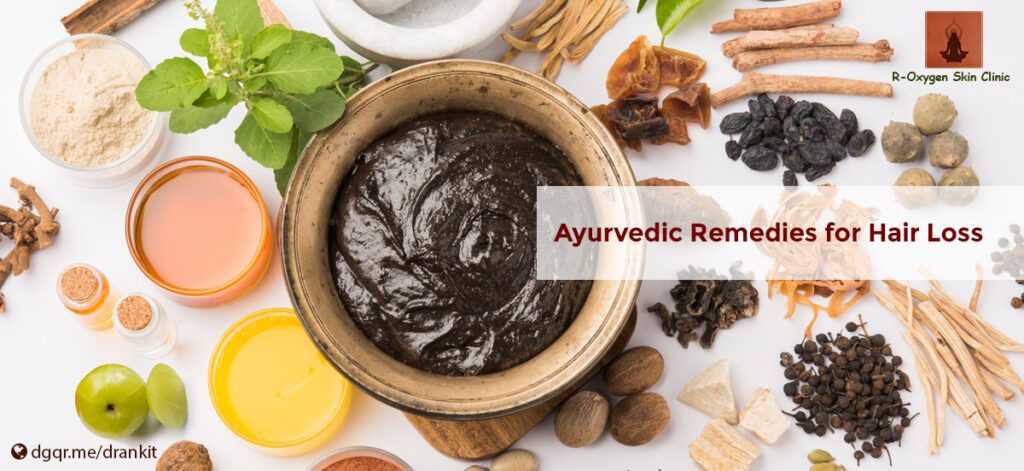 Ayurvedic Remedies for Hair Loss
Home Ingredients for Preventing Hair Fall:


Make a hair pack using

Amla, Henna,

and

Neem

herbs, that will help your hair grow. Apply it to your scalp and let it stay there for a few hours, then wash it off. Rinse off with warm water. These ingredients will help to keep hair healthy and strong, as well as keep your hair from falling out.

Before going to bed, apply 

henna

 powder to your scalp. This can be used as a natural colouring agent for your hair.

For dry skin or a dry scalp, coconut oil can be used. If you have flaky skin/dry, aloe vera gel can help you to keep your scalp moisturised. This will help you to avoid dryness and itchy scalp.

Amla, Aritha, Shikakai

 can be used as natural shampoo for your hair. They can be a replacement for modern days harsh chemical shampoos.
Oils for Ayurvedic Treatment:


From the ancient era,

Neem Oil

has been used to help people who are getting bald to get their hair back. 

People have used

Brahmi Oil

for centuries as a natural ayurvedic remedy for hair loss, baldness, greying of hair and dandruff. Apply brahmi oil to your scalp often (preferably 1-2 times daily). You can also mix brahmi oil with a carrier oil, like coconut oil or mustard oil, before you apply it to your scalp. Keep doing this for at least two months to see a change in your body.

Warm

Coconut Oil

is great for your hair, especially if you apply it to your scalp before every wash. Make sure to wash your head with warm water the next day to get rid of any extra oil (to avoid dirt).

One should massage

Almond Oil

into your scalp before you go to bed at night. Keep it overnight and then wash it off in the morning.This is a great way to keep your hair from going grey before they should.

Castor Oil

is a great way to keep your hair from going grey early and to strengthen your hair roots. In the evening, put castor oil on your scalp and let it stay there overnight. The next day, wash it off with warm water.
Few more Ayurvedic Ingredients:
A good source of omega fatty acids and zinc is

 chia

 seeds, intake of chia can help to stop hair loss caused by stress and old age. These can be taken, if you want to regrow your hair.

Dandelion root extract has a lot of vitamin A and C, which fights off free radical damage that causes hair loss. Even though some hair follicles are weak, Dandelion root will make them stronger so new hair can grow into healthy hair faster than ever before.

Aloe vera gel is very good to stop hair from falling out. Aloe vera gel is very good at this. Equal parts aloe vera gel and coconut oil should be put on the scalp. Keep it overnight and then wash it off in the morning. This treatment stops hair from turning grey before it should.
In order to keep your hair from turning grey too quickly, you should apply coconut milk to your scalp every day. Also, you can add some honey to coconut milk. Put this mixture on your scalp and let it stay there overnight. Then, wash it off in the morning with warm water.
What are the Causes of Hair Fall?
All of Ayurveda's problems with hair, skin, and nails are caused by the three doshas. VATA, PITTA, KAPHA are the three doshas. When your body has a lot of Vata(air and space elements dominate) dosha it makes your hair frizzy and brittle with dandruff and split ends. While Pitta(fire element dominates) causes premature greying and balding of hair inflammation. Kapha(earth and water elements dominate) dosha leads to clogged and extremely oily scalp.
What are the signs of Hair Fall?
Some things to look for if you have trouble with your hair or skin. There is a good chance that you have any of the following problems with your hair or skin –
You always think about how your hair looks. 

You wash your hair every day.

You might have an itchy scalp and/or face.

Your skin might be dry or make more oil than normal.
If one or more of these signs are true for you, it's time to do something. To figure out what's causing your skin/hair problems, consult doctor Dr. Ankit Pandey at R-Oxygen Skin Clinic for proper treatment. 
Ayurvedic Herbs that help to get Long and Healthy Hair
Shatavari, Bhringraj, Brahmi leaves, can be used for hair growth. Anti-Inflammatory properties of Guduchi allow it to combat hair problems, dandruff, and other scalp and hair ailments. Amla, Aritha, Shikakai can be used as natural cleansers for hair. Methi seeds are a rich source of folic acid, Vitamin A, Vitamin K, and Vitamin C scalp issues like dryness of hair, baldness, and hair thinning. 
Conclusion
There are many causes of Hair loss. Ancient healing method of Ayurveda is based on the use of herbs, oils, and other natural remedies to keep the body and mind  balanced. Ayurvedic remedies have shown proven results to deal with hair and skin problems. One must give it a try to avail the benefits of this ancient medical system.