Ayurvedic Dermatology is used for many different skin diseases. It does not matter if the person is suffering from dermatitis, acne, psoriasis, or any other skin disease, the treatments are similar.
Ayurveda is an ancient Indian Medical System that balances the body and warns of illness. The three major components of Ayurveda include a healthy diet, lifestyle changes, and alternative medicines like Ayurveda herbs and spices.
The main goal is to improve the general well-being of the person by curing their specific skin issues at the same time. I, Dr. Ankit Pandey BAMS Dermatology, have experience of more than 7 years in Ayurvedic Dermatology. I have helped many people find relief from the skin conditions they suffer from. Let me tell you how you can get rid of your skin problems with Ayurveda.
What is Ayurveda and how does it work?
Ayurveda is an Indian traditional medicine system that originated over 5,000 years ago in the ancient Vedic culture. Dermatology is a branch of medicine which deals with the skin, nails, hair, and its diseases.
The ayurvedic philosophy believes that our body can be divided into three layers or Doshas. 
Vata (air and space).

Pitta (fire).

Kapha (water). 
The three Doshas are in a constant state of flux in our bodies. Disorders arise when there are imbalances between these three forces.
Ayurvedic dermatology employs principles of Ayurveda to diagnose and treat different skin disorders. These provide a holistic experience that boosts your immunity, enhances mental health, and helps you manage stress.
Ayurveda uses a variety of natural remedies to maintain this balance by using diet, exercise, meditation, and yoga. Ayurvedic treatments can include herbs, massage oils, minerals like turmeric or ashwagandha for example.
How can Ayurveda help with skin diseases?
Skin diseases are often a consequence of environmental and personal factors. Ayurveda is the oldest form of medicine that is still in use today. It can help you by using natural remedies to soothe your skin. It will also help with other common problems such as psoriasis, eczema, acne, and many more.
Skin diseases can stem from many things but one of the more common causes is environmental factors such as pollution or UV rays from the sun. The use of natural remedies for skin diseases is a practice close to Ayurveda's heart.
Ayurveda is a holistic approach to living that includes food, exercise, and lifestyle. One of the most common Ayurvedic treatments for the skin is to detoxify it with honey and lemon paste. This treatment can be done as often as needed.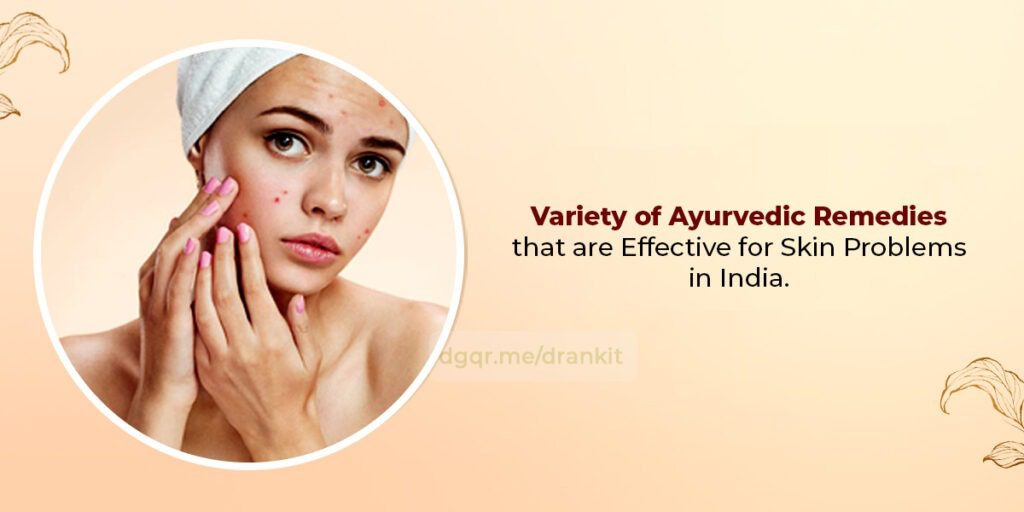 Variety of Ayurvedic Remedies that are Effective for Skin Problems in India.
India is a country with a variety of Ayurvedic treatments for skin problems. Below is a list of few things that work on many different types of skin problems.
Turmeric:
Turmeric has natural anti-inflammatory properties that heal the skin, fight bacteria and inflammation. It can be applied to the skin to reduce swelling, redness, and scars.
Sesame Oil:
This oil is rich in vitamin E which helps in cell regeneration and fights acne-causing bacteria on the skin.
Cucumber:
Cucumbers are high in water content which hydrates dry and cracked skin. Regular consumption of cucumber juice or slices can help people with eczema, psoriasis, or any other type of dermatitis condition.
Skin Care Routine:
It is important to follow a skincare routine for healthy and glowing skin.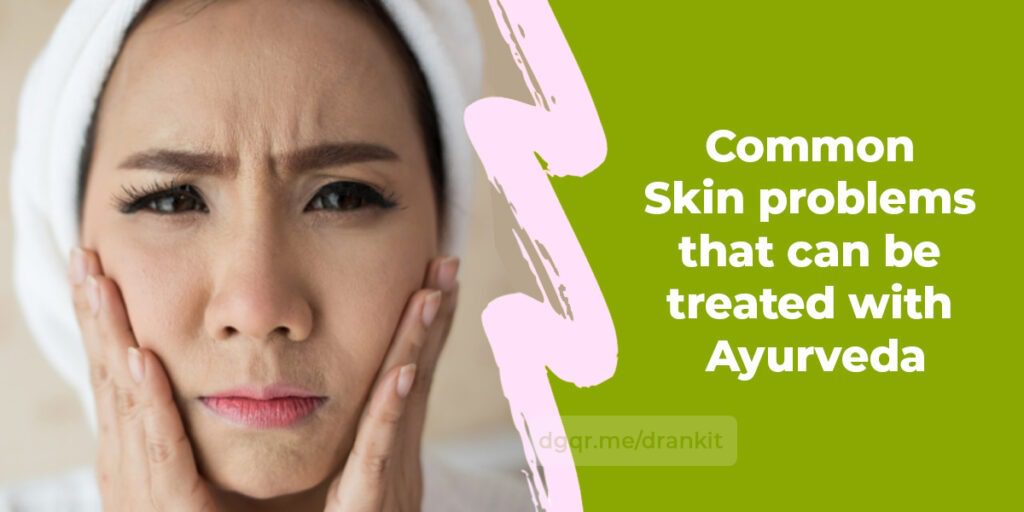 7 common skin problems that can be treated with Ayurveda
Acne
Acne is caused by clogged pores and bacteria, which eventually leads to excess oil production and inflammation. The most effective way to treat acne is with Ayurveda. Ayurvedic remedies balance hormones in the body, regulate oil production in the skin and reduce inflammation of acne.
Dry skin
Dry skin is a condition that affects many people. This condition is often caused by skin cells not producing enough natural oil or not absorbing enough natural oil. The traditional method of healing seeks to find balance within the body. One way to achieve this is through diet and herbal remedies, but there are many other options as well.
Hyperpigmentation
Hyperpigmentation is a condition that causes patches of skin to darken or become discolored. The substance that causes this condition is melanin. Increased melanin production is due to genetics, exposure to the sun, pregnancy, hormonal changes, and skin inflammation.
If you have hyperpigmentation, the first thing to do is to stop using any products that may be causing it. To treat hyperpigmentation, you can do one of the following:
Cleanse your skin with herbal soap for 3-4 days. Then try using just rose water as a cleanser.

Use a peeling agent to help remove the layers of dead skin and unclog pores. Then apply a cream or ointment that contains a potent combination of ingredients.
Eczema
Eczema is an inflammation of the skin that can range from mild to severe. Indian traditional medicine, Ayurveda, is a natural cure for eczema. Ayurveda's holistic approach to healing includes cleansing the body and mind. It also includes a healthy diet and exercise, supplements, herbs, lifestyle changes, etc.
Psoriasis
Psoriasis is a chronic skin condition that causes painful, red patches on the skin. It can be difficult to manage with traditional Western medicine. The good news? Ayurveda, an ancient Indian healing art, can often treat psoriasis without harsh chemicals or side effects.
Sensitive skin
Rosacea
Contact Ayurvedic Dermatologist for Skin Treatment
I am a passionate dermatologist with over 7 years of experience in this field, overseeing the treatment of skin disorders for all forms of skin. I use a holistic approach to treat various skin problems. The treatment is based on a person's constitution, which includes the mind and body, and their lifestyle, environment of living, and eating habits. You'll love my approach. I will treat your skin with utmost care and respect while restoring its natural functioning. 
If you have any related conditions, or wish to discuss the overall health of the skin, visit the best dermatologist in Jabalpur. Book your appointment online at R-Oxygen Skin Clinic, Jabalpur today!
Conclusion:
Ayurveda is an ancient Indian medical system. It is a holistic approach to health that combines physical, mental, emotional, and spiritual components of mind and body. In this article, we have discussed various Ayurvedic medicines and treatments for skin diseases. Hope you find this information useful.