You might have come across our super active customer success managers (Soumen, Bilal, Girish, Priyanshi, Shahrukh and Nishat) who have persistently been in touch with you. To make you aware of all the new and useful features that we routinely overhaul DigiQure with. Well, they might have boasted about writing blogs and told you how we can help you reach a wider potential patient-base by writing blogs and increasing your digital footprint.
The significance of beginning a medical blog is to show your existing and potential patients that you are a specialist and expert in your field. A blog can separate your practice from any healthcare organization in your general vicinity. Your healthcare blog will be where you can recount your story to your potential crowd as well as raise awareness that your medical practice exists. You can utilize medical blogging as an approach to advise your patients regarding the services you offer and excite them of what is in store in the clinical field. Nonetheless, composing a blog can be helpful to your practice. 
As your digital companions we are always on the lookout for new and innovative features that would make your practice more organized, automate workflow, avoid errors & data loss at the same time increase your digital presence. Thereby help you reach a wider audience. Blogging for your medical practice can help you win over patients and build better relationships with them, and help an extensive outspread of people. Thus, team DigiQure recommends each doctor that writing a blog can be very useful to expand your practice.
To make this blogging even more interesting, for all the on-board doctors, we have integrated "Health-feed" in the DigiQure Patient App. These health-feeds are present right in the home-screen of the DQ Patient App. We make sure to bring into notice various blogs on the DQ website by enticing imagery & engaging short descriptions as shown in the screenshots below: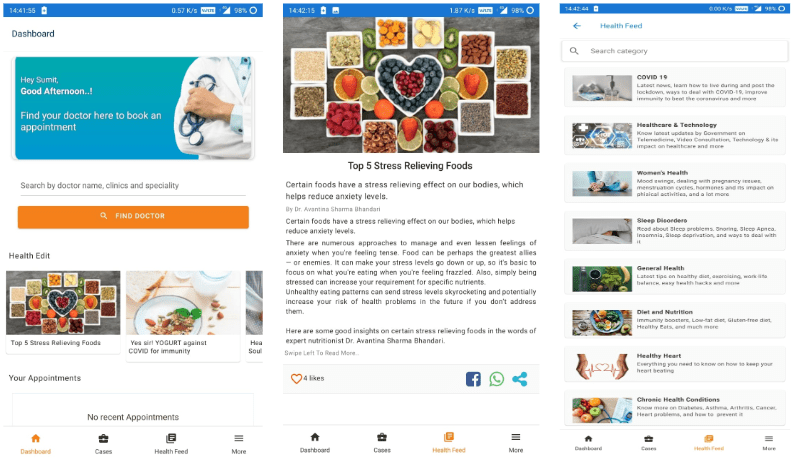 Goes without saying, these health-feeds are back-linked to the doctor's blogs. The purpose of the health-feed is to engage reader's interests in your blogs. A general survey says that the majority of people tend to avoid long texts, so we have created these small and interesting descriptions with relevant images that engage the readers into your interesting content. Nevertheless, the health-feeds are well-categorised into different categories such as Women's Health, General Health, Diet and Nutrition, Healthy Heart etc. 
We have some dynamic doctors on-aboard, the writing talent of those are remarkable to say the least. To name a few of these word-smiths are Dr. Ausaf Ali, Dr. Kapila Verma, Dr. Dipti Bhargav and Dr. Avantina Sharma Bhandari. Alike of these penmen, we encourage all the doctors on-board to unwrap the littérateur inside you to better connect with more number of people through your words. The images below show such examples of blogs of those expert pen-men doctors we have on-board.
It has never been simpler to begin a blog, and you may be debilitated thinking on the grounds that there is still a ton of groundwork to work on. Here are a couple of things you have to remember before beginning a medical blog.
Blogging takes a lot of effort but it's worth it for the benefits it might bring to your practice in the long run

The procedure can be unexciting on occasions yet you need to think about the advantages it brings to your practice over the long haul. As opposed to what many people think, writing a blog is not a walk in the park. It's not outright composition or just plain writing. You additionally need to do a great deal of research, editing and picture sourcing before your article gets prepared for publishing.

Here you have got complete backing of team DigiQure, just give us the content, we would proof-read it, find relevant pictures, give it for professional editing in WordPress and publish it under your named credits.
Choose your target market and write accordingly

Prior to composing articles, you have to realize who will be your readers. Would it be for 7-year old children, youngsters, guardians, or senior citizens? Will your articles center more around the necessities of ladies or men? Making sense of your target market will help you craft your article according to the interest of your readers.
At last, we would like to suggest you always be yourself. In the event that you are going to begin a blog, ensure that you are being authentic and genuine. You can form an enormous audience, without much of a stretch, that believes in you and the information you give. Medical blogging is a social action that permits you to interact with your readers. Thus, get in touch with one of our representatives and let us know if you would like to write for your patients.
Till then, Happy Blogging!