Telemedicine is simply defined as, "the remote delivery of healthcare services". It refers to the practice of caring for patients remotely when the provider and patient are not physically present with each other. Obviously this is via hardware, software and with an excellent dependent connectivity. The technology of Telemedicine has been existing through many  tools like DigiQure, for quite some time now. 
Although it's the recent scenarios such as the COVID-19 crisis that have triggered the immediate need to understand and practice Telemedicine especially using video consultation. In response of this current unprecedented situation Government of India (Ministry of Health and Family Welfare or MoHFW) has issued Telemedicine Guidelines on March 25, 2020. Here are the pointers that help you abide Telemedicine regulations:
Understanding the fact that Telemedicine can only be performed by a registered medical practitioner (or RMP), i.e. Healthcare professional who are registered either with Stats or Central Medical Councils.
All types of interaction (Patient to RMP, Caregiver to RMP, RMP to RMP, Health worker to RMP) are allowed in Telemedicine.
The registered medical practitioners (RMP) are allowed to use text, video or audio-enabled solutions by third party providers. Video based is consultation is best among all these.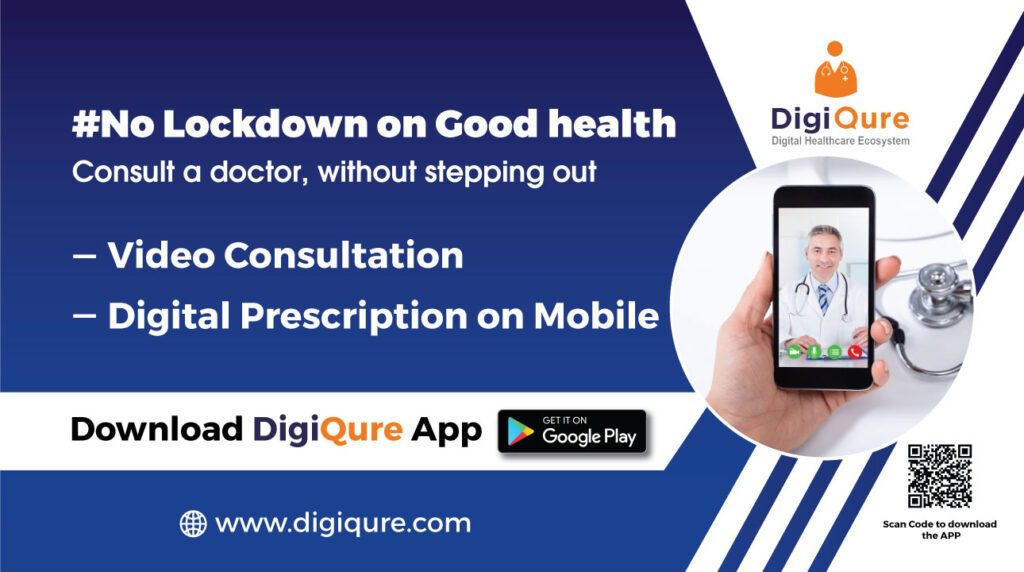 Do's and don'ts of Telemedicine
RMPs have to verify the patient's identity by name, age, address, email ID, phone number, registered ID or any other identification.
Video consultations should not be anonymous, both patient and doctor should know each other's identity. DigiQure gives a complete in-detail profile of the RMP to the patient/Caregiver, making this whole experience easygoing and straightforward.
RMPs need to be sure about the patient's age before prescribing any medication. The practitioner can ask for the patient's age proof if in doubt.
If a physical examination is critical information for consultation, the RMPs should not proceed until a physical examination can be arranged.
Prescribing Medicines without an appropriate diagnosis/provisional diagnosis will amount to a professional misconduct.
An RMP providing consultation via telemedicine cannot prescribe medicines listed in Schedule X of Drug and Cosmetic Act and Rules or any Narcotic and Psychotropic substance listed in the Narcotic Drugs and Psychotropic Substances Act, 1985.
The RMPs should ensure that a reasonable degree of care is undertaken during hiring such technological services that provide the CMS platform for Telemedicine. Thus, RMP can sit back and concentrate on the care to be given as DigiQure offers a high level of data integrity and a full-proof data encryption.
 
Don't forget to educate patients on telemedicine, services you provide, services you don't provide etc. 
RMP shall provide photo, scan, digital copy of a signed prescription or e-Prescription to the patient via email or any messaging platform. DigiQure impulsively creates systematic prescriptions that right away reflect on the patient's portal.
If the RMP has prescribed medicines, RMP shall issue a prescription as per the Indian Medical Council (Professional Conduct, Etiquette and Ethics) Regulations and shall not contravene the provisions of the Drugs and Cosmetics Act and Rules.
Telemedicine appointments are now going to be more popular than ever, but video conferencing etiquette doesn't come naturally to every physician, especially if you're not very used to video chat.

How do you translate the trust and empathy of a Doctor – patient relationship to the screen? While doing a virtual Telemedicine visit is fairly straightforward, there are some important key-pointers to keep in mind and they could make a huge difference in the professional impression you give off and add on to your patient's comfort. Here are certain etiquette you can practice during your Consultation:
Set up the webcam at eye level : Discussing a patient's concerns, diagnosis, and treatment is much more professional and engaging when you can make eye contact with your patient. You're trying to mimic an in-person visit, afterall.
Set up a professional space for your virtual consultation : A quiet, clean space will look much more professional on video. It's best to sit at a desk or table when possible.
Be punctual: We have a notification system, such as through email or text, that lets patients know when you're ready to see them, and let's you know when a patient is ready, this helps you be punctual.
Apart from these general etiquettes there are few more simple key pointers that one needs to adhere to, they are given below. It is evident that Video Consultation involves several benefits for patients and physicians and also plays a major role in the development of medicine and healthcare delivery in India.
RMPs may provide consultation to their best judgement, while being apprehensive about the fact that telemedicine consultation should be limited to first aid, life-saving measure, counselling and advice on referral.
High Quality Video with voice is best. RMPs need to keep the log or copy of the whole call. DigiQure maintains all your call logs for you readily and saves all that data on world-class AWS cloud storage.
If the RMP feels that the information received is inadequate, then he/she can request for additional information from the patient. This information may be shared in real time or shared later via email/text, as per the nature of such information. RMP shall maintain all patient records including case history, investigation reports, images, etc. as appropriate. DigiQure is a multi-device web app platform, which provides as well as covers easy access to all the above stated prerequisites.
RMP may charge an appropriate fee for the Telemedicine consultation provided. An RMP should also give a receipt/invoice for the fee charged for providing telemedicine based consultation.
Technology Platform must ensure that there is a proper mechanism in place to address any queries or grievances that the end-customer may have. 
For around two years, the DigiQure healthtech platform has remained away from the limelight and have been quietly working in stealth-mode on streamlining its services. However, since the beginning of March this year, when the pandemic hit India, team DigiQure has been active in ensuring that they do their bit. Team DigiQure was started by three MANIT, Bhopal alumni innovators who envision to revamp the healthcare ecosystem across the country with the help of latest technological advancements. Our dedicated team is working diligently to make our digital channels available 24×7. For details or any queries, please visit us at our website: