Hyperpigmentation refers to the discoloration of the skin. Skin pigmentation is the most common issue among males and females, wherein the skin becomes darker, often in patches. Hence, one gets an uneven skin tone.
There's no question that skin is important to all of us. Skin tone doesn't matter, but having clear skin is always a plus. Alas, not everyone has beautiful skin, and it can be a chore to find what is best for your skin. If not corrected, this pigmentation can become hyperpigmented, which is much more problematic. 
All these skin issues that come with age can boost the production of melanocytes in the skin. When this happens, a person may produce more melanin. This excess is then pushed deeper into their skin, causing Hyperpigmentation. Melasma or Sunspots are skin conditions that cause this condition. These conditions are more likely to affect areas of skin that face the sun, such as the face, arms, and legs.
What are its Symptoms?
Skin Discoloration

Skin Brown patches

Symmetrical Patches

Patches on the nose bridge, cheeks, chin, and forehead

Skin Burning feeling

Skin peeling and Flaky skin
What are its Causes?
The overproduction of melanin causes Hyperpigmentation. Sun exposure, hormonal changes, or inflammatory conditions often trigger this condition.
Certain medications such as Retin-A, which is an acne medication, also causes Hyperpigmentation. Due to the increased synthesis of melanin in specific locations, using Retin-A might induce it.
Few of the most common causes are:
Atopic dermatitis

Melasma

Psoriasis

Rosacea

Treatment Options for Hyperpigmentation
Sufferers of Hyperpigmentation generally seek treatments to reduce the appearance of dark spots and discoloration. That can be through topical application, light therapy, and chemical peels.
Some people with Hyperpigmentation may also find that they have other conditions such as melasma or acne rosacea. So, they should talk with a dermatologist about what steps they can take to treat these conditions.
People who suffer from Hyperpigmentation often will go to great lengths to treat this condition. It is not uncommon for them to change their diet and switch their skincare regimen to find relief. However, there are treatments available for those who want comfort from this condition quickly.
Hyperpigmentation is a skin condition that results from the overproduction of melanin. That leads to an undesirable darker color. To protect against or reverse this skin condition, it is important one must follow the below:
Limit Sun Exposure:

To prevent this from getting worse, exposure to the sun must have a limit. Apply sunscreen with an SPF of at least 30 to protect your skin and avoid any further darkening.

Avoid Pricking Skin:

It is important to avoid picking at the skin post-injury to avoid aggravating scarring and creating Hyperpigmentation on the region.
Some treatment options for dark patches are as follows:
Cosmetic Procedures: Specific cosmetic procedures can also lighten areas of skin to help reduce the appearance of Hyperpigmentation. If you're considering one of these procedures, talk to a skincare specialist or dermatologist first.
Topical Creams: Many people seek topical treatments to improve the appearance of skin that has Hyperpigmentation.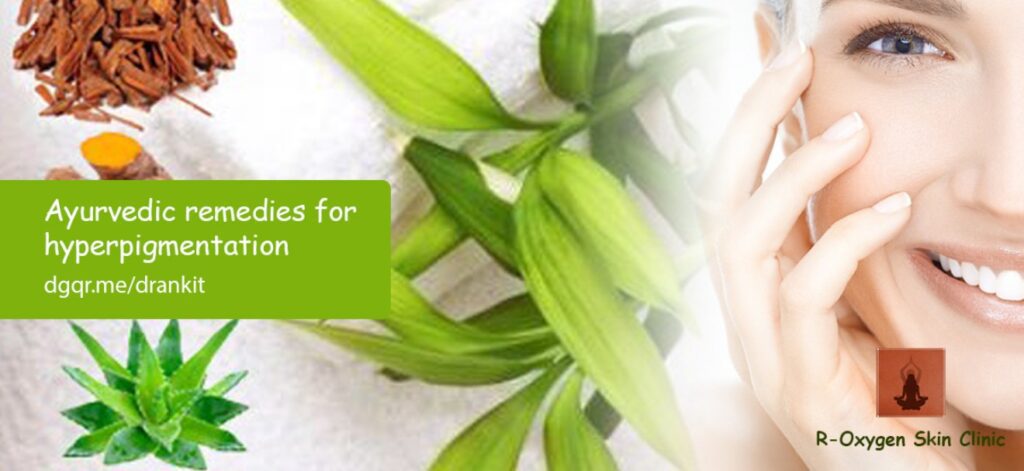 Ayurvedic Remedies for Hyperpigmentation
Exposure to ultraviolet light can lead to skin discoloration that causes Hyperpigmentation. The use of Ayurvedic Remedies can help alleviate or eliminate Hyperpigmentation.
Extrinsic factors can be the cause of Hyperpigmentation in Ayurveda. The body initiates a response in the form of an inflammatory reaction. This leads to excessive production of melanin pigments and ultimately hypersensitivity to ultraviolet light.
To apply Kumkumadi oil, mix in 20 ml of turmeric powder and 100 ml of aloe vera cream. Turmeric is an effective anti-inflammatory, which helps with irritated skin. Aloe vera is a famous agent for its whitening effect.
A full-body massage is fantastic for blood circulation. According to Ayurveda, you should also use a soap made of Honey, Turmeric, and Sandalwood while bathing. These ingredients are known to soothe Pitta doctors, which helps your skin have a healthy luster.
Some Ayurvedic remedies for Hyperpigmentation include sandalwood paste, sandalwood soap bar, sandalwood oil, turmeric paste, and turmeric soap bar.
How To Prevent Hyperpigmentation?
To prevent Hyperpigmentation from happening, you have to avoid any triggers that may cause it. These triggers could include UV rays, stress, and too much time in the sun. If you suspect that is not improving on its own, make an appointment with the Best Ayurvedic Dermatologist today.
How To Treat Hyperpigmented Skin At Home?
It is important to understand your skin type before you seek any home remedies for treating hyperpigmented skin conditions. Also, it is good to follow an Ayurvedic Skin Care Routine. Some home remedies can treat this skin condition. A few of those include:
Avocado Mask:

Avocados are rich in vitamin E, which helps reduce inflammation and replenish moisture.

Honey Mask:

Honey also soothes irritated skin and is a natural anti-inflammatory agent. It also has antimicrobial properties which help kill bacteria on the skin.

Lemon Juice Mask:

Lemon juice contains citric acid, which helps lighten dark spots.
Conclusion
Dark patches characterize Hyperpigmentation. Hyperpigmentation, or discoloration in the skin, is often the result of acne blemishes or sunspots that turn into freckles. It can also be due to other skin conditions like psoriasis and eczema. If you have faced this condition or have any questions, do visit our website R-Oxygen Skin Clinic. Our expert team will help you with all your skin related issues.