For someone who is worried about Acne, a series of these blogs will give you valuable information that can help you. You'll get to know what causes sebaceous acne, how to treat it, and the ultimate routine for it. We will cover all of these topics with complete details in this blog series.
Sebaceous

Blackheads

Papules

Pustules

Nodules
Let's discuss the first blog on Sebaceous Acne.
Sebaceous acne is a type of acne that arises from sebum, a natural protection oil produced by hair follicles and glands in the skin. Sebum forms a protective layer over the skin to help it retain moisture.
This causes pimples when pores become clogged with excess sebum or cells. The body also releases hormones that can cause oily skin and increased sebum production to occur during puberty, pregnancy, and changing hormones.
Many people get irritable with this type of acne because it has high levels of anxiety attached to it due to its appearance or discomfort because of the treatments often used to tackle it.
What are the causes of Sebaceous Acne?
Sebaceous glands produce too much sebum, a greasy substance that acts as a natural moisturizer for the skin. The bacteria that live on the skin can live in an over-saturated environment that contains too much sebum. Shaving or waxing, excessive sun exposure or chronic skin rubbing damages the skin and worsens acne.
There are six leading causes of sebaceous acne:
Clogged pores causing Pimples on the face

Too much sebum production on the skin

Irritation by too much sebum production

Clogged pores trapped inside hair follicles

Inflammation resulting from an infection

More oil and high fat or sugar intake in the diet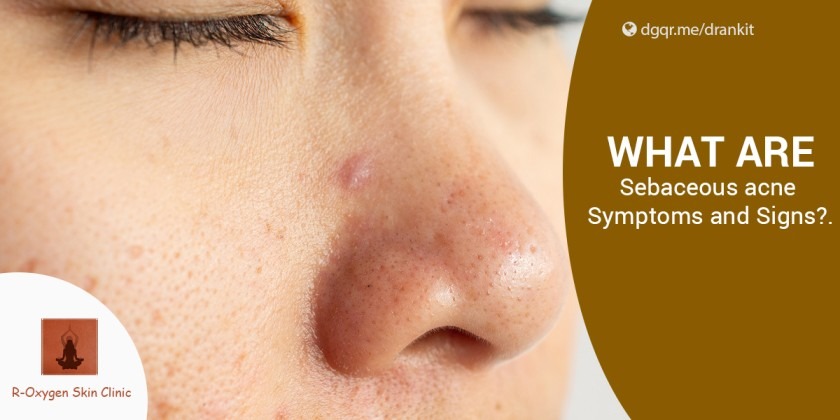 What Are Symptoms and Signs of Sebaceous Acne?
Sebaceous acne is a type of acne that mainly affects areas on the face with oily skin. It is a form of blackheads and whiteheads that can develop on the nose, cheeks, forehead, and chin.
Symptoms and signs are:
Blackheads appear on the nose, forehead, cheekbones, or chin

Whiteheads appear on the nose, forehead

Excess oils from sebaceous glands causing pimples
Home Remedies for Sebaceous Acne
There are many natural home remedies for treating sebaceous acne, but what works best for your particular case is your best bet. Some of the most popular remedies include:
Castor oil

Apple cider vinegar and water

Clean and Clear pads

Honey and lemon

Oatmeal and honey mask
If you're seeking an Ayurvedic Solution to treat your Acne problems, book an appointment with an expert dermatologist in Jabalpur and get a consultation from anywhere.
Possible Complications of Sebaceous Acne
Sebaceous acne is a chronic condition and, as such, may lead to scarring and permanent disfigurement.
Some possible complications of sebaceous acne are:
Scarring

Dyschromia

Permanent loss of hair follicles
Certain Preventions of Sebaceous Acne
Prevention of sebaceous Acne is to limit or avoid factors that may cause these conditions. This includes proper hygiene, preventing the use of products with strong chemicals, and avoiding likely triggering items like dairy, sugar, and processed oily foods, and avoiding too much sun exposure.
Types of Sebaceous Acne Treatments
Sebaceous acne is common, but it can be treated without surgery or painful injections if the sufferer notices the symptoms early enough. A few of the most common treatments include:
Facial wash

Laser resurfacing peel

Softening serum

Treatment mask
There are two other types of sebaceous acne treatments:
Comedone extractor

Surgical excision
The comedone extractor is a device that uses a small needle to puncture the whiteheads and blackheads and, with the help of suction, remove the sebum. 
Do sebaceous glands cause acne?
Acne is a skin condition that affects 1 in 10 people in their lifetime. Bacteria that feed on sebum causes acne. It is the oily substance secreted by sebaceous glands in the skin at the base of hair follicles. The bacteria block oil glands, causing pores to become blocked and dirt and dead cells to clog pores, leading to inflammation and redness of acne lesions.
Should you squeeze sebum out of pores?
There is no definitive answer, as there is no one-size-fits-all approach to skincare. However, if you notice an excess build-up of sebum on your skin, it's best to work with a professional skincare expert to remove it. You might get acne scars if you're too harsh on them. 
What happens if you leave it untreated?
Commonly, the buildup of sebum oil on your skin causes acne. Your pores produce sebum, and if it accumulates in one area, it becomes infected and inflamed, leading to breakouts. If left untreated, acne can lead to scarring and permanent discoloration of the skin.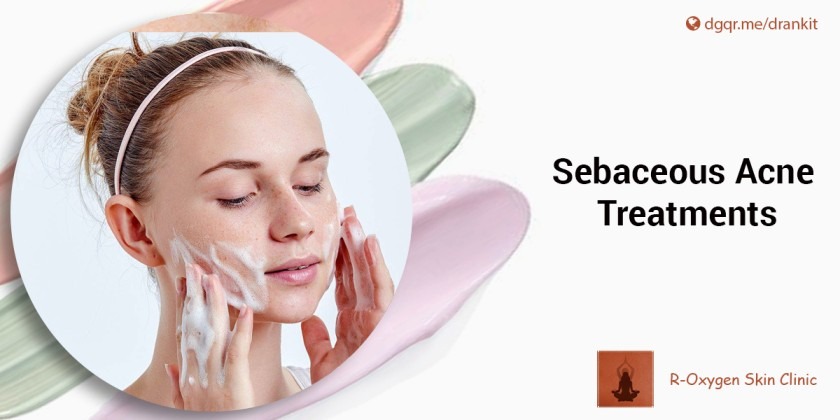 Tips & Precautions for Clear Skin
Discovering the best skincare product for you can be overwhelming. There are a lot of factors to consider, and you must know what these factors are so that you can choose a product that will be beneficial to your skin.
Follow a skincare routine. Regularly, we need to cleanse, exfoliate, and moisturize to keep our pores clean and healthy. These steps help keep the bacteria growth at bay. Most importantly, they help provide an environment where our skin can stay healthy and free from infection.
We offer some tips here on how you can take care of your skin without breaking the bank.
Tips on how you can take care of your skin:
Don't over-exfoliate, as doing so can strip your skin of essential moisture

Reduce your intake of oil

Keep your skin moisturized with SPF

Wear sunscreen every day

Limit exposure to the sun, but keep exposure to the minimum time needed

Check out your skin regularly

 for any signs of redness or irritation

Take care of any breakouts with products that target spots
Conclusion
I have been treating acne and other skin issues for many years. I've tried to share my knowledge and expertise in this article for people who need to know what to do if they have Sebaceous Acne. It tends to develop in the sebaceous glands in the face, neck, and chest. A visit to our R-Oxygen Skin Clinic for treatment may be necessary to get rid of sebaceous acne. 
In our next upcoming blog, we will discuss whiteheads and blackheads.